There's no denying the allure of the Jaguar F-Pace and the BMW X3. They are both beautifully crafted vehicles and offer a sublime driving experience. Here's how the two vehicles measure up against each other.
Performance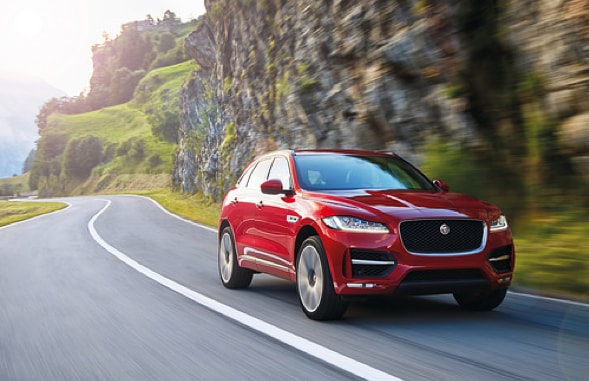 Jaguar's new breed of Ingenium engines is behind the F-Pace's dynamic performance. In 2018, a 2.0-liter turbocharged four-cylinder with 247 horsepower is standard. A 296-horsepower version and a diesel engine are also available. For a really fun drive, the S trim boasts a supercharged 3.0-liter V-6 engine with 380 horsepower that sprints from 0-60 mph in just 5.1 seconds.
The 2018 BMX X3 offers two trims with two different engines. The xDrive30i has a 2.0-liter turbocharged four-cylinder engine capable of 248 horsepower. The M40i has a 3.0-liter performance turbo six-cylinder engine that delivers 355 horsepower.
Luxury and Convenience
The Jaguar F-Pace and BMW X3 fall in the luxury compact SUV category. The F-Pace Prestige trim, priced at $49,125, is a good choice. It's two trims up from the base and adds keyless entry, navigation, grained leather upholstery, a heated steering wheel, heated front seats, and front and rear parking aids. 
An innovative option on the F-Pace is the Activity Key for those with an active lifestyle. No need for a bag or a pocket to store your car keys while doing outdoor activities. Leave your key in the car and wear the waterproof wristband. To lock and unlock the car, simply hold it near the tailgate sensor located behind the Jaguar badge. Optional features on the X3 include a head-up display, gesture control to operate the infotainment system, and wireless smartphone charging.
Safety and Security
In 2018, the F-Pace gets two new active driving aids to help prevent collisions - forward traffic detection and forward vehicle guidance. It also features Traffic Sign Recognition with Adaptive Speed Limiter technology that "reads" speed sign limits and automatically reduces the vehicle's speed to the applicable limit. Safety features on the X3 include a rearview camera, tire pressure monitoring, and panic alarm. It also features an active protection system that detects imminent collisions and automatically makes certain vehicle adjustments to reduce injury. 
Fuel Economy
Among the Jaguar trims, the diesel engine is the most fuel-efficient, with an EPA rating of 26 mpg/city and 33 mpg/highway. Comparatively, the X3 xDrive30i scores 22 mpg/city and 29 mpg/highway, and the M40i model is even less fuel-efficient. Both the X3 and F-Pace are equipped with stop/start technology and regenerative braking. 
Pricing
Both vehicles have a similar base price. The F-Pace is competitively priced at $42,065 against the X3 at $42,650. For this price, the F-Pace offers excellent value for money as it is a well-equipped vehicle. If, however, it doesn't meet your needs, there are six other trims. The R-Sport and S trims will suit drivers looking for sportier styling and handling at $54,175 and $59,775 respectively. For the pinnacle of luxury, the top-end F-Pace Portfolio costs $62,000. To get a better idea of the difference in trims, visit Jaguar Gwinnett. 
The Jaguar F-Pace debuted in 2017 to excellent reviews. As a newcomer, it certainly gives the BMW X3 a run for its money. It quickly drew the motoring world's attention and U.S. News lists it as one of the Best Luxury Compact SUVs for 2018.
Make an Inquiry
Get Directions