For years, Jaguar has been making luxury sedans. Today, Jaguar is also making sporty SUVs, and the new 2018 Jaguar E-Pace is the first compact SUV to come out of Jaguar's long history of luxury vehicles. This is a perfect SUV for zipping up to the mountains for a ski trip and then turning around for a fashionable night on the town.
The Audi brand of cars has been building snappy sedans since the early 1900s. Today, the 2018 Audi Q3 is a compact SUV designed for professionals looking to add adventure to their driving style.
Luxury & Convenience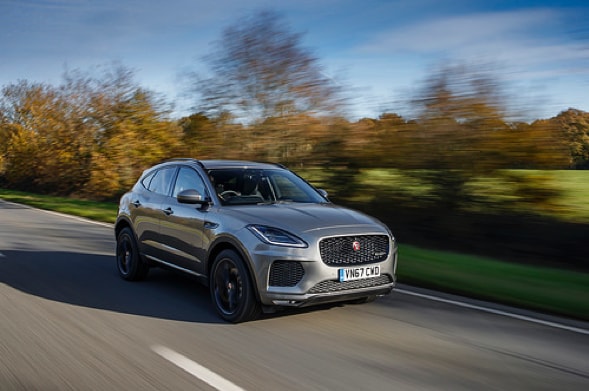 With a cockpit-like interior, the Jaguar E-Pace keeps all of the driver controls within easy reach so that the driver can stay focused on driving. The leather 14-way power seats are heated and have a memory function. Turn on the 11-speaker premium audio system for your listening pleasure. With a 10-inch interactive Touch Pro infotainment system with built-in navigation, you are just a touch away from important driving data to get you to your destination smoothly. With 24 cubic feet of cargo space - 52 cubic feet with the rear seats folded down - the E-Pace offers plenty of room.
The Audi Q3 also has heated leather seats with multiple adjustments. Listen to your favorite music with the 10-speaker Audi Concert System. Space is a bit limited with only 16.7 cubic feet of storage, or 48 cubic feet with the rear seats folded down. 
When looking for a compact SUV, the Jaguar E-Pace has more storage space, better driver visibility, and a more luxurious interior with easy-access controls.
Performance
The Audi Q3's engine is a 2.0-liter turbocharged inline 4 with 200 hp and a six-speed automatic transmission.
With a 2.0-liter inline four 246 hp engine, all-wheel drive, and a nine-speed automatic transmission, the Jaguar E-Pace can go from 0-60 mph in just under seven seconds. This is a powerful SUV! Take a test drive at your Jaguar dealer in Duluth, Georgia, today.
Safety Features
Jaguar does not skimp when it comes to safety features. The E-Pace comes with a vast array of LED lights for visibility. For added traction, the Jaguar has Electronic Stability Control, with ABS and Driveline Traction Control. For highway driving, there is the Lane Keep Assist Departure Warning. The E-Pace also boasts an emergency braking forward and reverse traffic collision detection system and a backup camera.
The Audi also has an Electronic and Roll Stability Control feature as well as warning systems with front and rear parking sensors and ABS with Driveline Traction Control. Overall, the Jaguar E-Pace handles exceptionally well on all terrain surfaces, while the Audi Q3 is best suited for urban terrain. 
Pricing
Depending on packages and options, the 2018 Jaguar E-Pace pricing ranges from $38,600 to $53,550, while the 2018 Audi Q3 prices range from $32,900 to $37,900. With so many extra safety and performance features, the Jaguar comes out on top for pricing. Check out your Gwinnett Jaguar dealer today for a test drive.
The 2018 Jaguar E-Pace is the perfect choice if you're looking for a luxury compact SUV that has plenty of room, power, and safety features and is suitable for a variety of terrains. The 2018 Audi Q3 is a nice choice for a compact SUV designed primarily for urban driving. 
Make an Inquiry
Get Directions